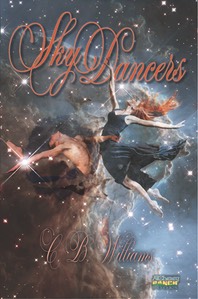 Abducted into interplanetary slavery.
 Layla is pregnant, frightened, and very alone, imprisoned on a slave ship speeding away from Earth…alone, that is, until a mysterious young man named Angel drops into her prison cell from an air duct.
 To keep hope alive, Layla and Angel decide to be a team of two. They promise each other they will survive, they will reunite, and they will go home, back to Earth.
 But how can they keep their promises when, almost immediately, both are sold as slaves?
 Layla is purchased by Velin LeTour, the Federation's Guardian assigned to the slave ship. It was either that or the auction block.
 And Angel, deemed too wild, is slated for termination. But at the last possible moment, he is handed over to a troupe of Sky Dancers from a faraway planet, entertainers who travel throughout the galaxy.
 Both Layla and Angel have survived.
 Now comes the tricky part…
CLICK HERE TO READ THE FIRST CHAPTER OF SKY DANCERS
Here's what people are saying about Sky Dancers:
"This is a sweeping multi-year saga reminiscent of Andre Norton or Anne McCaffrey's early tales with overtones of Sharon Shinn.r Strong female roles in addition to unusual men and loves that last for years.

Be aware there is one instance of rape. While jarring in a saga where the bedroom doors are otherwise tightly shut, it is intrinsic to the storyline and not graphic or even particularly explicit. That it elicited such an emotional reaction from me in so few words is a testament to the author's skill at sucking readers into her world with swift strokes of her description.

Do not expect space opera or action scenes other than the lyrically described Sky Dancers. This is I Claudius rather than Star Wars. A dense read and a satisfying one. It's my first experience of this author and I'll definitely be back."